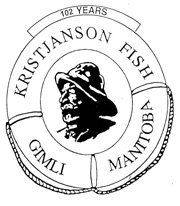 Ted and Annie Kristjanson
By Ted Kristjanson



I, Theodore (Ted) Kristjanson, was born May 30, 1912 in Gimli MB to Sigurður and Sigurbjörg Kristjanson. I married Annie Slobodian, and have three children: Robert, Kenneth, and Richard.

I spent my entire working life as a fisherman and fish station operator. I was a charter member of the Gimli Kinsmen Club, Past Master of the Lisgar Lodge #2 Selkirk, and Past Master of Viking Lodge #179 in Gimli. I received my 50 year jewel in 1995. I have been a member of the Old Timers Association since 1951. My brother Hannes was a charter member of the Gimli Kinsmen, the Old Timers Association, and the Festival Committee.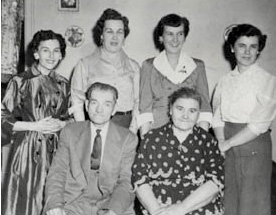 The Slobodian Family



Annie's father, William Slobodian, came to Canada from Austria in 1911 and settled in Winnipeg where he worked for the Ogilvie Flour Company. In 1914 he married Olena Zabinski who had come from the Ukraine. Mr. Slobodian established a General Store at the corner of Burrows and Parr in the North End. For years their store and home were a haven for friends from the Gimli area who had business in the city. Many visited and often stayed overnight.

When the Depression struck in 1929, and other difficulties, such as Olena's nervous breakdown, it was hard to keep the store going. The family decided to move to Gimli to be close to their many friends, who told them that Gimli was a nice place to live.

They built a store a the corner of Third Ave. and Centre St. with living quarters behind that acquired fame as the new second hand store. William carried a stock of reasonably priced clothing. At first, his stock included second hand clothing, but later it was all new goods which he bought every Monday at wholesale houses in Winnipeg. Through shrewd purchasing he was able to sell at a low cost.

William and Olena had four daughters: Annie, Sophie, Minnie, and Jean. Sophie married my brother Hannes. Minnie married Norman Carter of Toronto. Their children are Jerry, Leonard, Marilyn, and Janice. Jean married Ed Rosser of Montreal. Their children are Karen and Warren.

Sophie, Annie and their husbands have all been active members of the Gimli community. Annie is a member of the Eastern Star, and both sisters were charter members of the Gimli Kinettes.

William and Olena Slobodian both passed away in 1964, Olena on Feb. 24 and William on Dec. 4. For a time after their death, Annie and Sophie operated the store in partnership, but later sold her share to Annie. Annie and Ted bought out the other sisters. The store was called 'the Target Store'. It was renovated and offered a good line of clothing. The store was sold to Ernest Stefanson to make way for the new Lighthouse Mall.

<< Back to Kristjanson Fish


---

© Copyright Kristjanson Fish 2010
All Rights Reserved.
Unless Otherwise Noted.