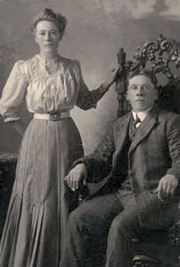 Sigurður and Sigurbjörg Kristjanson
By Ted Kristjanson



Sigurður Þorvaldur Kristjánsson was born in Skagafjörður, Iceland in 1879. He came to Canada with his foster parents in 1885 and they settled 3 miles north of Gimli at a farm called Skipalakur. He became a fisherman and lake station operator. When he was 19 years of age he drove the mail and passenger service on the Hamilton-Cavalier North Dakota route. He then returned to Canada where he did the same work in Winnipeg to Riverton; the round trip took one week. He was to say, in later years, that he had worked for the President of the United States and Queen Victoria, before he was of legal age to do so.

While in Winnipeg he found work on the building of the Central Fire Hall, where he had to carry bricks and mortar up a ladder five or six stories for the building of the tower. This dangerous work was carried out for all of 12 ½ cents an hour.

He had another job driving a Hansom Cab, seated in the open, even in the dead of winter. One of his duties was to wait outside the Pantages Theatre for patrons after the show had concluded. Often this was a long, cold wait. He was required to wear a high silk hat. Years later he said that he had never been so cold as on top of that Hansom cab.

In Gimli he worked as a clerk in the H.P. Tergeson store, and tended bar at the Lakeview Hotel. During his life in Gimli, he was active in the band and in choirs. He served on the town council, the old-timers association, the Icelandic library, and was a member of the Order of Foresters.

Sigurður (Siggi) spent most of his life fishing on Lake Winnipeg. He began fishing in 1891 when he was only twelve years old. He was hired by the Hanneson Bros. Of Gimli to fish at Albert's Pt. which is in the Channel area of Lake Winnipeg. For his work, he was paid $15 a month.

In early 1900, Siggi, along with John Johnson, rented a fishing station from Haldor Brynjolfson at Birch Point where the Pelican Beach Golf Course is now situated. The station consisted of a house, and a freezer which held over 200 boxes of frozen fish. They operated this station during the months of Sept. and Oct. with about 8 men fishing on skiffs. The fish was pan frozen using freezer salt and crushed ice. In around 1923, Siggi, in partnership with Steini Sigmundson, built a fall and winter season station at Granite Quarry in the Channel area. In 1924, Siggi and Steini built a summer season Whitefish station at Poplar Pt. which is situated north east of George's Island. They had 8 whitefish boats at this station. In 1926 they built a pickerel station for skiffs fishing at a place called Leaf river about 20 miles north of Beren's River. They had 10 skiffs fishing there.

In 1928 Dad and Steini parted and my brother Hannes and I joined our father in fishing and fish station operation, first in the fall and winter operation in Granite Quarry. The, in 1937, we built a fall and winter station at Albert Pt. which we operated for 33 years. Although we only had six skiffs to begin with, by 1950 we had 25 skiffs. In 1950 Hannes and I took over Booth Fish Station at George's Island and operated it, using 8 whitefish boats, until 1968 when the fresh fish marketing board took over.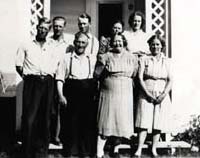 The Siggi and Sigga Kristjanson family



On Dec. 20, 1898 Siggi married Sigurbjörg Þórðardóttir who was born at Fremrinýpur in Norður- Múlasýsla on Mar. 2, 1879. Sigurbjörg had to come to Canada with her family in 1882. They stopped in Kinmount, Ontario where her mother died giving birth to a son. The boy survived, but was immediately adopted by a Scottish couple, because the father would have been unable to care for four young children. Sigga never again saw or heard of her brother.

The remainder of the family settled in Saskatchewan while Sigga was cared for by her aunt and uncle in the Geysir district. She was never again united with her family. She met and married Siggi while she was working in Winnipeg. The couple moved to Gimli in 1899.

Sigga was very found of painting and her family still owns several of her paintings. She sang in choirs, and was active in the campaign to give women the right to vote. She was a member of the Unitarian Church and its Ladies Aid Society.

In 1908, the family experienced a tragedy when they lost their two-story house was consumed by fire. Sigga was in the barn milking her cows, and the three children were still in bed. She noticed smoke pouring from the house, so she made her way upstairs carried two children out and laid them in the snow. She went back in, this time crawling on the floor. She was able to save the baby just in time, as the floor collapsed behind them. The family lost everything, but were befriended by Mrs. Victoria Sigurgeirson who gave them shelter for the rest of the winter. Siggi was out on the lake fishing at the time.

Siggi and Sigga Kristjanson had 6 children:

Kristín Ingibjörg (Teenie) married Holman Olson. They resided at Selkirk MB and had three children, Walter, Olive, and Holman Jr.

Jóhanna Magnúsína (Hanna) married Edwin Jonasson and settled in Gimli; they had no children.

Sæberg Helgi married Groa Isfjord and they two resided in Gimli with their four children, Sonny, Iris, Vivian, and Margaret Rose.

Sigbjörg Valdina married Peter Peterson. They resided in Gimli and had two children: Allan and Lorraine.

Hannes married Sophie Slobodian. They also lived in Gimli and had 2 children: Beverly and Edwin.

I, Theodore (Ted) (b. May 30, 1912), married Annie Slobodian, reside in Gimli, and have three children: Robert, Kenneth, and Richard.

My dad Siggi passed away Oct. 15, 1952, and my mom Sigga followed on Nov. 24, 1961.

<< Back to Kristjanson Fish


---

© Copyright Kristjanson Fish 2010
All Rights Reserved.
Unless Otherwise Noted.