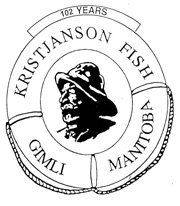 Welcome to the Kristjanson Fish Website
A Work In Progress

Kristjanson Family


Commercial Fishing


Government and Infrastructure


---
Kristjanson Family

Introduction

The Kristjanson Family has been a part of the Lake Winnipeg fishing industry for over a century.

Sigurđur (Siggi) Ţorvaldur Kristjánsson emigrated from Iceland in 1885. Settling in Gimli, he began his fishing career at age 12. Siggi spent most of his life working as a fisherman and lake station operator. He worked hard to improve the working conditions and pay for fishermen.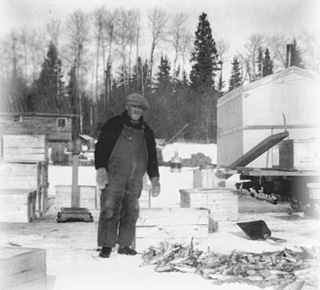 Siggi Kristjanson with his catch.



Siggi and his wife, Sigurbjörg (Sigga) Ţórđardóttir married in 1898. In 1908, while Siggi was out on the lake, an early morning fire broke out in their house. Sigga ran to the upstairs room where the children were sleeping and rescued 2 of the children. Then she went back in, crawling on the floor, and saved the baby. Mrs. Victoria Sigurgeirson gave them shelter for the rest of the winter. The family lost everything, but emerged stronger than ever.

Siggi and Sigga's sons, Hannes and Theodore (Ted), went into partnership with their father in 1927 at Granite Quarry. In 1937, they built a fall and winter station at Albert Point. They had 6 skiffs when they started; by 1950, they had 25. Ted and Hannes fished for 59 and 70 years, respectively. They experienced many good years, but also lived through the difficult times of the Depression and the closure of the lake due to mercury pollution.

Robert Kristjanson, the son of Ted and Annie, began fishing in the early 1950s. In 1979, Robert's son, Chris, became the 4th generation of Kristjansons on Lake Winnipeg. Jerry Marks, Robert's son-in-law, started fishing all three seasons in 1981.

Jerry Marks passed away in 2001. Roberta married Bill Buckels in 2004 and they now fish together.

<< Back to Top


---
Coming Soon

This website is currently under construction. The topic you selected is not available yet.

<< Back to Top


---

© Copyright Kristjanson Fish 2010
All Rights Reserved.
Unless Otherwise Noted.